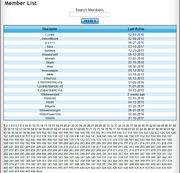 The
Member List & Search
is where members can view and search for through the full list of members on PetAdoptables.
Results will return listings that match the search term, including the:
username; and
time: when the member was last active.
How to Search
Enter the name of the member into the search box to start searching; search term must be complete; i.e. to search for the term, 'moonlight', the full term must be entered; entering an incomplete version such, 'moonli', will not be recognized.
In addition, entering only 'moon', will return results that have the word 'moon' and will not display any of its variations; eg. 'moonlight'.