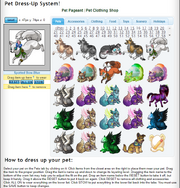 The
Pet Dress Up
is where members can dress up their pets with items bought from the
Pet Clothing Shop
.
Pets can also be entered in pageants via the Pet Pageant button, or purchasing new items via the Pet Clothing Shop button.





How to Dress Up your Pet
Navigate the Pets tab and select the desired pet by clicking on it.
Click items from the closet area on the right to place them in the area labelled, Drag item up here to wear on the left and drag the item to the proper position.
Drag the item's name up and down to change its layering level; dragging the item name to the bottom of the worn list may help you to adjust the fit on the pet.
Drop an item in the area labelled, Drag item here to remove to take it off, but keep it handy; drag it to the Drag item up here to wear area to put it back on again.

Click RESET to remove all clothing and accessories.
Click ALL ON to wear everything on the lower list.
Click STOW to put everything in the lower list back into the tabs.

The Save button must be used to keep changes.