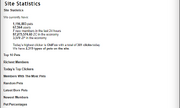 The
Site Statistics
is where members can view current and up-to-date statistics of the site.
Clicking on each category will display all information in regards to it; clicking on the category again will refresh the information displayed.
Statistics include:
Site Statistics: PetAdoptables' overall stats;
Top 10 Pets: pets with the highest number of clicks;
Richest Members: members with the most ZC;
Today's Top Clickers;
Members With The Most Pets;
Random Pets: click the category again to randomize pets;
Latest Born Pets;
Newest Members and
Pet Percentages: percentages of all pets in existence.